Curious as to where the word and concept of SerenDestiny® came from?
I'll always be grateful to my son Andrew for coming up with the term.
Andrew and his brother Tom were home from Virginia Tech for the holidays. We were getting caught up over Thanksgiving dinner when Andrew said, "Hey Mom, I ran into Ryan last night. It was really interesting.  I'd been wondering what he was up to and I looked up … and there he was, out of the blue."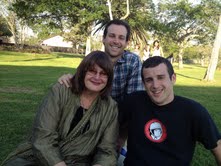 I laughed, "Oh Andrew.  That wasn't out of the blue. That's called serendipity.  Some people call these coincidences 'happy accidents,' but I don't think they're accidents.  I think they're our best future meeting us halfway."
"What do you mean?"
"Think about it. What are the odds of that happening?  You're thinking about Ryan for the first time in years and all of a sudden he shows up??  Really?!
I've come to believe 'beats-the-odds' coincidences happen for a good reason.  We're supposed to figure out why this person or opportunity crossed our path.  If you follow up with Ryan, you'll set something good in motion. Maybe you're meant to collaborate with him on something."
Later that night, Andrew walked into the kitchen and said, "Mom, I'm really intrigued with that concept of … SerenDestiny."
Thank you Andrew!  I was intrigued with that original word too, and immediately trademarked it.
After all, I wrote a book called POP! Create the Perfect Title, Tagline and Pitch for Anything that helps people create quality books, brands, presentations and pitches that scale their impact.  I understand the importance of creating one-of-a-kind words you can turn into a meaningful career that adds value for all involved.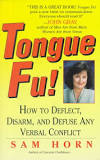 I did that with Tongue Fu!® , and have had the privilege of speaking on that topic for hundreds of organizations including the U.S. Embassy in London, State of Hawaii, Boeing, Asian Leadership Conference and Capital One. The Tongue Fu!® book has been published in 17 languages and is still selling, almost two decades after I first wrote it.
My next step was to figure out what SerenDestiny meant. I initially thought it is what happens when we act on serendipity.  This may sound a little woo-woo, but many people have told me these fortuitous encounters jump-started their ideal destiny.
You may know what I'm talking about.  You may know someone who got laid off and the next week they ran into a former boss who hired them on the spot.  Perhaps you decided to get back into shape and your neighbor invited you to walk/run together the next morning.  Maybe you have a friend who is recovering from a divorce, and she received an unexpected phone call from a college sweetheart/soul mate."
I even gave a TEDx talk for NASA that shared stories of the miracles (there's no other word for it) that happen when we ACT on these out of the blue, but not-by-chance meetings.
However, the more I interviewed people, the more I realized that SerenDestiny® is not something passive that is out of our control.  We don't have to sit around, wait, and hope it will  happen.
We can increase the likelihood of it happening.  Like the state of flow, we can't force fortuitous encounters to show up, but we can facilitate them showing up.
And that's what this site is about.  Stories of people who have set their SerenDestiny® in motion by aligning with congruent individuals, activities and opportunities.  Insights about how we can create a life where the light is on in our eyes because we're connected with who and what really matters to us.
Because that is how I've come to define SerenDestiny® It is a life where the light is on in our eyes. And that's what happens when our decisions and actions honor our values, voice and vision.  We light up. Our eyes shine. We exude positive energy.  We feel good.
If that sounds good to you, you're in the right place.
I hope you'll subscribe to the SerenDestiny® blog and return to this site often so you receive ongoing inspiration of people around the world who love their life and work, and who have the light on in their eyes.
I'll share what I've learned about how we can set our SerenDestiny® in motion.
And I hope you'll share your stories and insights so others can discover how they too can create a life where the light is on in their eyes, and they're putting the light on in others' eyes as well.