SOMEDAY is Not a Day in the Week
"One day you're going to wake up and there won't be any time left to do the things you've always wanted to do." – Paulo Coelho
What have you always wanted to do? What are you waiting for? Sam shares how to figure out what really matters to you, and success stories of people who figured out how to bring more of that into their life NOW even while juggling work and family obligations – and how you can too.
Want to see Sam in action? Check out her TEDx talk which has received 370,000 views. Watch how Sam engages the group with humor and facilitates meaningful participatation – even in an 18 minute talk.

Attention: Give It, Get It, Pay It
"Tell me to what you pay attention, and I will tell you who you are." – Jose Ortega Y Gasset
You'll never take your attention for granted after Sam's mind-opening program that shows how to focus when you don't feel like it – and how to earn the attention of others – even when they don't feel like it. Based on her Washington Post bestseller Got Your Attention? and ConZentrate book (which was featured on NPR and endorsed by Stephen Covey, author of 7 Habits of Highly Effective People).

Lead, Communicate and Influence with Respect
"People treat us the way we teach them to treat us." – Jack Canfield
Why has Sam presented versions of this program for more than a quarter million people and for such clients as Boeing, Capital One, Cisco, Nationwide, Intel and National Geographic? Because she doesn't waste time on ivory tower theories that have no relevance in the real world. You'll discover exactly what to say and do to give and get the respect you want, need and deserve at work, at home and in your community.
Got Confidence?
"I get nervous if I don't get nervous. I just channel it into the show." – Beyonce'
Wouldn't it be wonderful if you could overcome nerves and walk into any situation with confidence? You can. Confidence is not a mystery ability you're born with or not. It is a SKILL anyone can acquire. Your level of confidence affects everything you do. It is THE key to personal and professional success. Discover why Sam's book on this topic, What's Holding You Back?, has been sold around the world in ten languages and received a cover endorsement from Jack Canfield.
What's Your NEXT?
"We have two lives, and the second one begins when we realize we only have one." – Confucius
The good news is, you don't need CLARITY on what to do with the REST of your life, you just need clarity on what to do NEXT in your life. Sam's Happiness Hacks help you figure out a meaningful, rewarding NEXT that makes the rest of your life the best of your life.
Want Sam to speak to your group? Contact Cheri@IntrigueAgency.com to discuss how we can work together to customize a quality program that is a resounding success for all involved.
Clients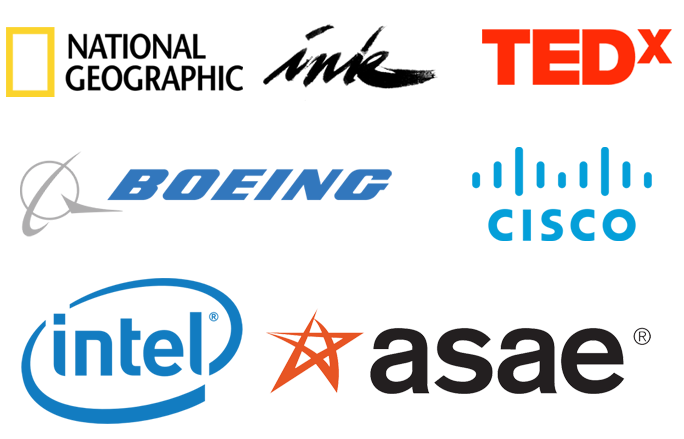 Testimonials
If you can't get people's attention, you'll never get their business. Sam Horn's new book shows how to quickly earn attention and re- spect so people are motivated to listen.

Whether you're pitching, presenting, promoting, or persuading, you need to know how to be heard above the din. Sam Horn's smart and snappy book will teach you how to get people's attention—and keep it.