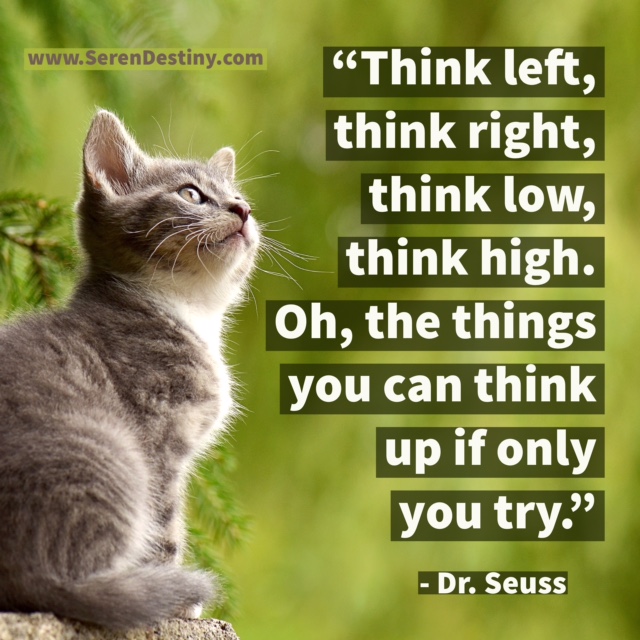 Eleanor Roosevelt said, "I think, at a child's birth, if a mother could ask a fairy godmother to endow it with the most useful gift, that gift would be curiosity."
I think one of the most useful gifts we can give anyone is curiosity. Curiosity means we care. It means we're attentive, connected, in love with ideas, life and potential.
If there's anything I've learned after twenty years of speaking, writing, and researching the topic of attention, concentration and focus .. it's that intrigued attention (aka curiosity) is the quickest way to create a life where the light is on in our eyes.
I've collected some of my favorite quotes about creativity and curiosity and share them here. Hope they spark your interest and remind you to look around and give the world and the people in it the appreciative attention and eyebrows-up interest they deserve.
1. "If there were a rehab for curiosity; I'd be in it." – CBS news anchor Diane Sawyer
2. "Think left and think right, and think low and think high; Oh, the thinks you can think up if only you try. " – Dr. Seuss
3. "Curiosity is free-wheeling intelligence." – Alistair Cooke
4. "Curiosity doesn't kill the cat; it kills the competition." – Sam Walton
5. "We keep moving forward, opening new doors, and trying new things, because we are curious and curiosity keeps leading us down new paths." – Walt Disney
6. "The cure for boredom is curiosity. There is no cure for curiosity." – Dorothy Parker
7. "The constant happiness is curiosity." – Alice Munro
8. "Be curious, not judgmental." –Walt Whitman
9. "I am neither clever nor especially gifted. I am only very, very curious." – Albert Einstein
10. "Blessed are the curious, for they shall have adventures." – Lovelle Drachman
11. "Curiosity will conquer fear more than bravery will." – James Stephenson
12. "I am in love with hope.' – Mitch Albom (Hope is a form of curiosity.)
13. "Somewhere, something incredible is waiting to be known." – Carl Sagan
14. "There is moment in every child's life where a door opens and lets the future in." – author Graham Greene
15. "Before there were drawing boards, what did we go back to?" – comedian George Carlin
16. Once we believe in ourselves, we can risk curiosity, wonder, spontaneous delight or any experience that reveals the human spirit." – e. e. cummings
17. "I have found if you love life, life will love you back." – composer Arthur Rubenstein (Loving life is a combination of creativity and curiosity.)
18. "Research is formalized curiosity. It is poking and prying with a purpose." – Zora Neale Hurston
19. "It is always with excitement that I wake up in the morning wondering what my intuition will toss up to me, like gifts from the sea. Intuition tells the thinking mind where to look next." – Jonas Salk
20. "The world was shocked to learn I wrote a bestseller at 66. No matter how long you live, you have stories to tell. What else is there to do but head off on the Conestoga wagon of the soul?" – Pulitzer Prize winning author Frank McCourt, Angela's Ashes
21."When you can do a common thing in an uncommon way; you will command the attention of the world." – inventor George Washington Carver (If it's common, it's not creative.)
22. "Creativity is based on the belief that there's no particular virtue in doing things they way they've always been done." – Rudolph Flesch
23. "Curiosity is the wick in the candle of learning." – William Ward
24. "The travel impulse is mental and physical curiosity. It's a passion. And I can't understand people who don't want to travel." – Paul Thoreaux
25. "You can't just give someone a creativity injection. You have to create an environment for curiosity and a way to encourage people and get the best out of them. Sir Ken Robinson
26. "Creativity is not just for artists. It's for business people looking for a new way to close a sale; it's for engineers trying to solve a problem; it's for parents who want their children to see the world in more than one way." – Twyla Tharp (I listened to Twyla Tharp's excellent book The Creative Habit while traveling across America. She says, "Every creative project needs a spine. What's yours?" Mine's intrigue and innovation.)
27, "Creativity is connecting things." – Steve Jobs
28. "It may be that our cosmic curiosity… is a genetically-encoded force that we illuminate when we look up and wonder." – Neil deGrasse Tyson
29. "Curiosity is at the core of creativity and intrigue is at the core of innovation." – Sam Horn
30. "Creativity is contagious. Pass it on." – Albert Einstein
YES to passing along creativity and curiosity. And feel free to pass along these quotes to anyone who might appreciate a curiosity-creativity boost.
– – –
Sam Horn, CEO of the Intrigue Agency, is on a mission to help people create quality presentations, books and brands that add value for all involved. Her TEDx talk and books – including POP!, Tongue Fu!, IDEApreneur and Washington Post bestseller Got Your Attention? – have been featured in New York Times, Forbes, INC, and presented to NASA, Accenture, ASAE, Intel and National Geographic. Want Sam to present at your next convention? Contact Cheri@IntrigueAggency.com