"None of us are going to get out of here alive, so please stop thinking of yourself as an afterthought." – Anthony Hopkins
I just got off my monthly phone call with a long-time friend.
Everyone who has ever met her says, even if they only met her for a few minutes in the hallway, "She made me feel I was the most important person in the world. She listened to every word I said and then said just the right thing to lift me up and move me forward."
What some people don't know is she has been dealing with Stage 4 cancer the last two years. She has many 9-on-the-scale-of-10 pain days and never knows which day might be her last.
As a result, she lives every day like it might be her last. That's not being trite, it's being true.
I asked her, "What do you wish people knew that you now know?"
"I wish they would emotionally put themselves at the end of their life. It would help them be more mindful about how they spend their time."
"What do you mean?"
"Mindful means asking ourselves, 'Does this really matter? What will matter in the long run?' When we know we have a limited amount of time, we're really careful about who we spend it with, what we spend it on."
Following my call with her, I asked myself, "What am I NOT doing that, at the end of my days, I will wish I had?"
The answer came immediately.
I would wish I had initiated more outings where our whole family got together. I've been fortunate this last year to spend time with Tom, Patty and their kids in Boulder and Maui for Christmas, and with Andrew, Miki and Hiro in NY and LA … but it's been two years since we've all been together.
That's too long. I am the matriarch of our family. It is up to ME to initiate gatherings.
So, I sent them an email asking, "Who wants to run the Bolder Boulder 10K together?"
The Bolder Boulder is the second largest 10K in the country. Anyone can do it. competitive runners, walkers, babies in strollers, even corporate teams in costumes.
This will give us all something to train for, something to look forward to. It will be a wonderful "excuse" to get outside, get fit, and have fun while creating a celebratory and memorable experience.
I can hardly put into words how right this feels.
How about you?
Are you spending your time carefully or carelessly?
What priorities – health, loved ones, your life – are you treating as an "afterthought?"
If you project yourself emotionally to the end of your life, what will you wish you had done?
Why not put a date on the calendar and initiate it now?
Henry Miller said, "Life, as it is called, is for many of us one long postponement."
Are you floating through life, promising yourself you'll do more of what's important … when you have more time, money or freedom?
Often, the things we wish we had done don't cost a thing. They just involve spending quality time with loved ones, doing things we enjoy, and looking around and appreciating what's right with our world.
And we can all do that, right here, right now if we make it a priority.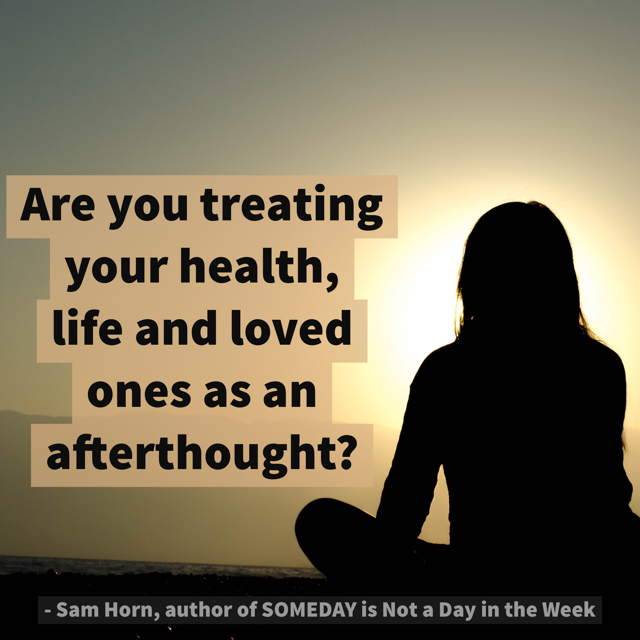 – – –
Sam Horn, CEO of the Intrigue Agency, TEDx speaker, and author of POP!, Tongue Fu!, and Washington Post bestseller Got Your Attention? is on a mission to help people create a QUALITY life-work that adds value for all involved. This is excerpted from "SOMEDAY is Not a Day in the Week" (St. Martins Press, 2019)