Have you heard?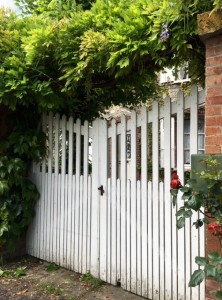 Paris is experiencing historic flooding, the worst in 34 years. Many institutions and visitor attractions (e.g., the Louvre) are closed.
That includes Monet's Garden in Giverny where I'm taking a private workshop with world-renowned photographers Charles Needle and Dewitt Jones.
I appreciate my fellow participants' response to the news. No pouts or complaints.
Everyone simply adjusted their mental lens and switched their focus to the many other metaphorical doors awaiting their attention and appreciation.
it reminded me of something that happened years ago when the boys were growing up on Maui.
We had planned a party following the final game of their soccer season. We rented the only public pool on the island, assigned food duties and ordered trophies.
(Yes, Tom and Andrew were part of the generation where every kid received a trophy. One time, I "rebelled" and ordered mugs with the team's picture, thinking the kids would enjoy having something they could use that would bring back fond memories of that season. Not a popular decision. Suffice it to say, we went back to trophies … although we still use those mugs. Just saying:-)
The team won their final game so everyone headed to the pool in high spirits and with great expectations. We arrived with our floats, pool gear and water guns … only to find the pool closed.
Bummer. We called the local park and recreation district. No answer. We rattled the padlocked gates. No luck. We walked around hoping to find another way in. Not happening.
The coach was fuming "I called them weeks ago to make this reservation. I've got the confirmation right here." The parents milled around, upset, aimless, unsure what to do.
The kids knew what to do. They grabbed a ball from the back of a van and seconds later, were laughing and having a great time playing an impromptu game of soccer on the concrete parking lot.
Hmmm. We parents looked at each other and realized we could still have our party right there in the parking lot. Out came the food, chairs and music, and moments later we were having a great time too.
Since then, every time a door (or pool) closes, I remember the lesson the kids' modeled for us that day and try to focus on Helen Keller's enduring insight:
"When one door of happiness closes, another opens; but often we look so long at the closed door we do not see the one which has opened for us."
How about you?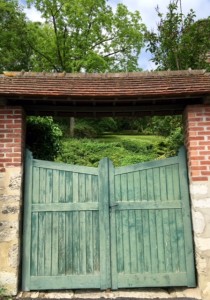 Have you had a door close recently on something you were counting on, something you were looking forward to?
Are you gazing at the closed door, upset, aimless, unsure what to do … dwelling on how disappointing this is for you?
Could you instead adjust your mental lens and switch your focus to the open doors awaiting your attention and appreciation?
As Yousuf Karsh said, "The heart and mind are the true lens of the camera.
P.S.  Yes, I took these photos … getting better at capturing images. It's easier when surrounded by the beauty of Giverny:-)