The theme of this past week on my Year by the Water?
Connection. Actually, that's the ever-present theme of my life. It's what makes it all worthwhile, what makes it feel … right.
I've been listening to Twyla Tharp's New York Times bestseller 
The Creative Habit
on Audible as I drive cross-country.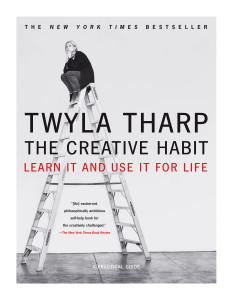 I heartily recommend this inspiring book. If you're taking a trip, it will make the hours and miles race by as she shares thought-provoking insights and examples of how we can make the muse our mentor.
Twyla believes that every creative project needs a "spine." Everything builds on this spine. It's the theme that holds the work together and makes it cohesive.
I thought, "Discovery is the 'spine' – the river – that runs through my Year by the Water. It's what makes every day something I look forward to.
The discovery of exploring uncharted territory, and the privilege of writing about the resulting experiences and epiphanies, fill me with joy. I never know what's around the next bend, which keeps me in a constant state of anticipation, which keeps the light on in my eyes.
What I realized though, and this is really important, is that discovery rides, rests and is rooted in a current of connection. It depends on knowing that my family and friends are with me, even when they're not with me. Connection is what makes everything else sing.  Discovery is the North Star that guides me, Connection is the Holy Grail that grounds me.
One of the things I've discovered on my Year by the Water is there are many types of connection.
This past week in Houston, there was the connection of my son Tom, grandson Mateo and me going to what we instantly dubbed "Pokeman Park." Tom and Patty have a ritual of getting 2 year old Mateo outside every day when they get home from work. They are blessed to have a lovely park with a pond and a playground 5 minutes from their house, and have logged many happy hours there at golden hour.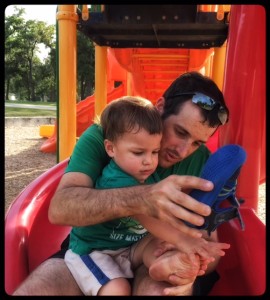 Tom and I decided to discover a new place so we headed to a park they hadn't visited before. We laughed as soon as we saw the tell-tale signs of walkers, skateboarders and drivers all holding their phones out in front of them with the distinctive PokemanGO motion that means they're triangulating the "pensar" or about to capture a "Bulbasaur."
What was different is how this game turned strangers,  who would probably otherwise not even talk to each other, into a connected community of people voluntarily and happily swapping tips and sharing directions to the nearest "gym." Plus, this was a 100 degree day. Instead of staying inside, this game had motivated people to get off the couch and out of the house and connect with, and explore, their hometown.
So, that's an example of how a gadget/game can actually connect people rather than isolate them.
Here's another example of connection via tech.
Patty, who works in Mission Control at NASA's Johnson's Space Center, was in Moscow, acting as a liaison to the Russian Space Agency, for part of my visit. Yet, there she was, on the computer screen, sharing "dinner" with us thanks to the miracle of Skype. As I watched Mateo blow kisses to his mom halfway around the world, I thought, "Now that's a modern family."
There's a third type of connection, and it involves feeling connected even when we're not together in person.
When I moved to Hawaii in the early 1980's, I was sad about leaving my good friends. My dad reassured me by saying, "True friendship doesn't register time or space." He was right. I didn't leave those friends "behind." When I moved back to Wash DC seventeen years later, we picked up right where we left off.
And that has been one of the most important discoveries of my life. True connection transcends time. True connection endures despite distance.
So it is with my sons Tom and Andrew, Patty, Miki, Mateo, family members Cheri, Christy, Joe and long-time friends Judy, Mary, Denise, Glenna, Joan, Jeanne, Gail, Mariah, Katie, Sue, Lee, Lynda and many others.
Some people, upon hearing about my Year by the Water, call me a "nomad."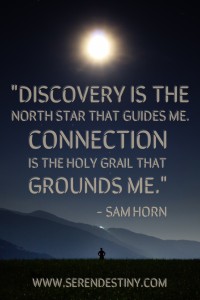 But a nomad doesn't have a home. I have a home.y
My home is the ever-present connection I feel with my friends and family. They might as well be sitting right next to me as we explore this great country together
True connection lives in the heart. It is the river – the current – that runs through  our  life.  And I am deeply grateful for it.