Such wisdom from Pablo Picasso, "The meaning of life is to find your gift, the purpose of life is to give it away."
Have you found your gift? What is that? How are you giving it away?
A friend gave the commencement address at her alma mater. Some of the grads took the stage and with a flourish opened their gowns to reveal they were wearing t-shires underneath that said, "I DON'T KNOW."
Hah. The perfect answer for students who DON'T KNOW what they're going to do with their degree, career, life.
Many know they want to be happy. They just don't know how to do that.
The thing is, as Leo Rosten said, "The purpose of life isn't to be happy; it's to matter, to feel it has made some difference we have lived at all."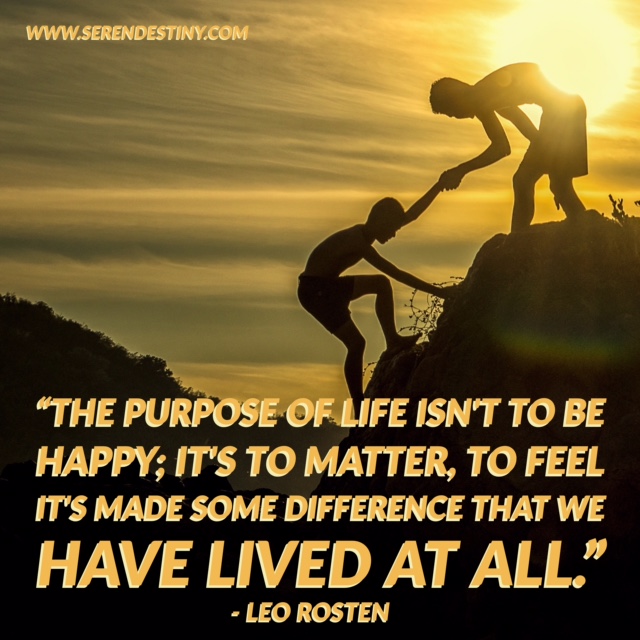 Please understand, I'm not saying it's not important to be happy. It is. It's just not WHY we're here.
We're here to make a difference – and one of the surest ways to do that is to identify our gifts and gift them back.
Are you not clear what your gifts are? Want a short-cut to finding out?
What puts the light on in your eyes? Is it singing, dancing, playing a musical instrument or sport?
Is it fixing something, growing something, building something?
Do you have a knack for words, for language, for stories?
What do people admire about you and say, "I wish I could do that" … yet it comes "naturally, easily" to you?
What do you love to do? Look forward to with eagerness and anticipation?
What brings you joy? Makes you feel purposeful, that you're making a positive difference?
Those are all your GIFTS.
Now, figure out how you can TEACH THAT TO OTHERS or DO THAT FOR OTHERS.
Wrapping your career around your gifts is the surest way to expand your impact – for good.
Don't keep your gifts to yourself. That puts an unnecessary ceiling on their value.
Sharing your gifts is a way to set your SerenDestiny in motion.
Giving away your gifts is a way to scale your service and become wealthy in what matters.
Gifting your gifts creates a "rising tide" ripple effect where more people benefit from what you do well.
And isn't that what we all want?
P.S. If you'd like specific ways to do this, check out my book IDEApreneur.