I have enjoyed every single moment of this private workshop at Monet's Garden with world-class photographers Charles Needle, Dewitt Jones and Jack H. Davis.
I've had an opportunity to practice Bucky Fuller's advice to "Dare to become a beginner."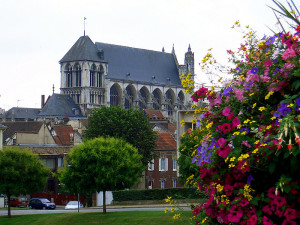 The other participants have years of experience and dozens of lens.  They wear vests with pockets and pull carry-ons stocked with different cameras, tripods and gear.
I am the rube of the group, armed solely with my trusty iPhone.
The good news is, these renowned photographers are all fans of the smart phon'es miraculous ability to allow almost anyone to create gee-whiz images right out of the gate.
One of my biggest lessons of this past week is to NOT follow Stephen Covey's advice to "Start with the end in mind."
It's far more important to start with an open mind.
Here's what I mean.
We trekked to nearby Vernon for a field trip to historical Notre Dame Collegiate Church that was build between the 11th and 16th century.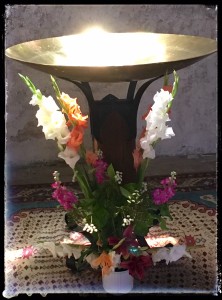 Charles told us we would discover magic inside if we kept our eyes open.
So I walked in, looking for things that got my eyebrows up – a sure sign of intrigue.
I saw the sun glowing on this baptismal and thought, "THAT'S interesting" and snapped this picture of it.
Now, this image is nothing "special" but it did capture that moment and it's a starting point.
As Dewitt says, there is more than one right answer … so I kept playing.
Let's try this.
How about that?
Let's get closer.
Wow.  Look at that!!
I keep experimenting – letting my gut be my guide.
As Charles says, "You have permission to play.  There are no penalties. You can have as many do-overs and fresh starts as you'd like."
I kept experimenting with different points of view.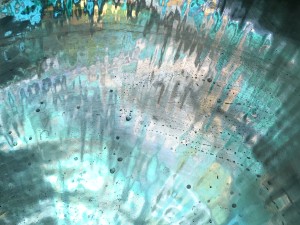 Little gasps of delight surrounded me as we all experienced the coalescing of something beautiful and unexpected come into focus.
It reminded me … do you know how Einstein knew he had a good idea?  He laughed out loud.
I found myself laughing out loud with the sheer joy of what emerged in front of my eyes.
Carrie Fisher says "Instant gratification takes too long."
Well, that's one of the many miracles of taking and making images with your iPhone.
In seconds, you can capture and then create something that didn't exist a moment before.
And it's available to anyone with a smart phone who's willing to play.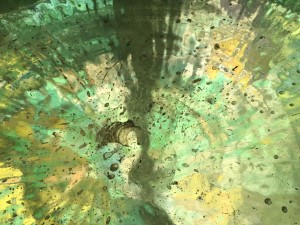 Little could I gave predicted when I saw the sun glowing on that baptismal that a few shots later, it would turn into this …
This, of course, is a metaphor waiting to happen.
First, may we all have the courage to try something new and dare to be a beginner.
Second, DON'T start with the end in mind.  Start with an open  mind.
There's no way I could have conjured up these "end" images in the beginning.  I didn't even know they were possible.
Third, keep paying attention to what gets your eyebrows up.  Then, keep playing until something clicks for you.
Then, click it.
Voila!  (When in France, use French sayings:-) …you're becoming an artist.
It's fun, incredibly rewarding … and available to ANYONE.