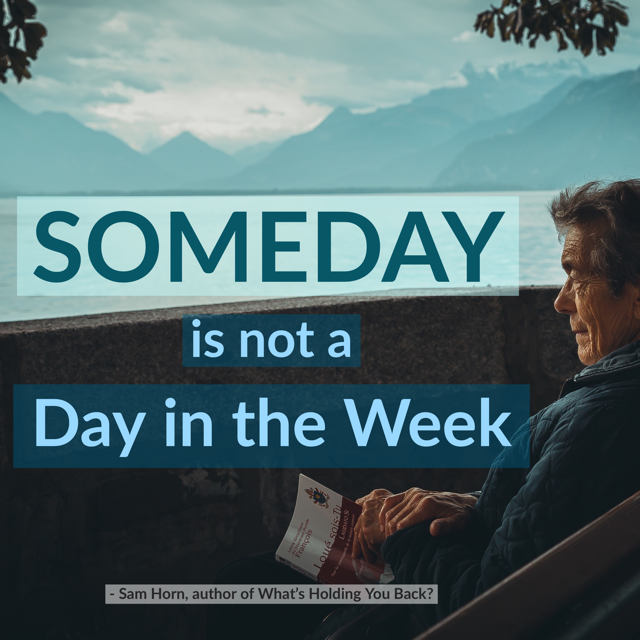 I'm here speaking at an event in Hawaii, and a participant asked, "What prompted you to write a book on SOMEDAY is Not a Day in the Week?"
I told the group the backstory and why I am a woman on a mission on this topic, and thought you might enjoy reading it too.
In 2015, I had just finished an intense two day consult. It was satisfying but I was so exhausted, I didn't know how I was going to get on the plane home that night.
My son called while I was summoning up energy to drive to the airport. He sensed something in my voice and asked, "What's up, Mom?"
I told him how drained I was and he said, "Mom, there's something about you I don't understand. You've created a life where you can do anything you want, and you're not taking advantage of it."
Out of the mouths of twenty-somethings. He was right. I could take time off. My sons were grown and out of the house. I was single, healthy, and could do work on the road to finance my adventures. I was free to go.
But you know what? Instead of changing things up, I went right back to my old habits and started filling my calendar again.
It wasn't until several months later when I was driving along the Pacific Coast on my way to give a workshop, that I had a "divine intervention." And yes, I know that sounds woo-woo, but that's what happened.
All of a sudden my mind was filled with an idea that wanted to be born.
If there's anything I learned from 17 years of emceeing the Maui Writers Conference, it's how important it is to ink it when we think it. So, I pulled over and here's what poured out.
(Really. You can't make this stuff up.)
"Some people are drawn to fire. I am drawn to water. After all, we are 65 percent water. It is our essence, our lifeblood. All of us are bodies of water.
Yet, as Maslow pointed out, water is a fulfilled need. And fulfilled needs tend to get overlooked and taken for granted.
So it is that I will set out on my Year by the Water on October 1. (My whaat?!)
I will spend a week by a different body of water — oceans, estuaries, mountain streams. Each week will have a theme. Can we really not step in the same river twice? Does salt water — sea, tears and sweat — cure what ails us? Why can't we collect all the shells on the beach?
So, Chesapeake Bay, Marina Del Rey… here I come. I will interview people along the way — surfers, swimmers, sailors. I will swim with dolphins, houseboat on Lake Tahoe, snuba in Maui, sail off the coast of California.
I am clear that I am supposed to set this in motion but I am not supposed to control it. I am supposed to do the opposite of my always and cooperate with what wants to happen.
And so it is."
I sat there, stunned by the out-of-the-blue suddeness of it all.
However, I realized how fortunate I was to have a crystal clear "calling" downloaded to me (with a name and start date no less) so I answered that call.
In retrospect, I think another reason I was so ready and willing to make this major change was because of something that happened to my dad.
My dad's dream was to visit all the national parks when he retired. As head of vocational ag education for the state of California, he was on the road 4-5 days a week driving to high schools, county fairs and farms and ranches. He was an honorable man who worked hard for decades to make a positive difference in the lives of his FFA advisors and students.
A week after retiring, he took off on his long-delayed dream, and a week after that, he had a stroke in a hotel bathroom.
Dad recovered from that stroke but he never did get to fulfill his dream of visiting the Smoky Mountains, Zion, Glacier and the Grand Tetons.
I didn't want that to happen me. I don't want that to happen to anyone.
Fast-forward to 2017. I did set out on my Year by the Water and it was everything I hoped it would be – and more.
The irony is, it ended up not being about the water.
It ended up being about the people I met.
In particular, the people who, upon hearing about my Year by the Water, would say wistfully, "I'm going to do something like that …someday."
When I asked why they were postponing their dreams, many said, "I'm busy, I've got bills to pay, people counting on me."
They seemed to think it was selfish, almost irresponsible, to do what made them happy.
The problem with that? It's based on the assumption that we'll be able to do what we want when we're ready. But what if we don't?
As the Buddha said, "The thing is, we think we have time."
The purpose of my book (published by St. Martin's Press, Jan. 2019) is to help you get crystal clear that life is much too precious to postpone.
You have a right and a responsibility to do more of what makes you happy.
Please note, I'm not suggesting you quit your job, walk away from your obligations or take a year off to follow your dreams.
Many of you aren't in a position to do that … and/or you may not want to do that.
The good news is, there are small things you can do right here, right now, to be happier, healtheir, more joyful and fulfilled.
My hope is that by reading inspiring stories of people who decided to change their life for good; you'll be motivated to do the same.
Most importantly, I hope you'll be motivated to put yourself in your own story and honor your true priorities. It's not selfish, it's smart.
You'll never regret taking the time to focus on what will matter in the long run; you'll only regret not doing it … sooner.