Giving thanks isn't just for Thanksgiving. Research by Harvard shows it's not happiness that makes us grateful; it's gratefulness that makes us happy.
So, why limit giving thanks to just one day a year? As Walt Whitman said, "To feel gratitude and not express it, is like wrapping a present and not giving it."
Many people have a tradition of unwrapping presents that have been stashed under a Christmas tree. The real presents aren't under the tree. The real presents are the moments we take to express our appreciation for our health, freedom and loved ones.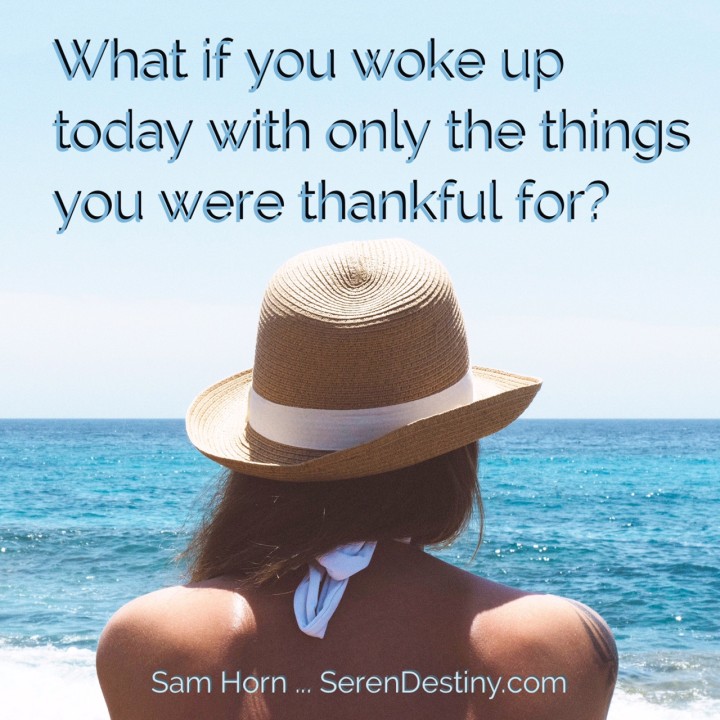 As this evocative image asks, "What if we woke up today with only the things we were thankful for?"
So it is as I wrap up 2016, I am filled with gratitude for this year that was filled with abundance in all its many forms.
I want to share my favorite quotes to remind us a gratitude mindset is the single best thing we can do to improve our quality of life. Feel free to print these and pass them around the table. Ask people to select a particularly meaningful quote and share what it means to them.
You and the people at the table could talk about politics, sports, the weather, plane delays, traffic and the food – or you could have a memorable discussion about the many blessings in your life, including who and what has favorably impacted you this year.
You've heard the saying "out of sight, out of mind?" You might want to post these quotes where you can see them every day, not just on holidays. Keeping them"in sight, in mind" (vs. out of sight, out of mind) can help you focus on – and appreciate – what's right in the world. And that's a win for everyone.
Gratitude quote #1: "When you drink the water, remember the well." – Chinese proverb
Gratitude quote #2: "Make yourself a blessing to someone. Your kind smile or pat on the back just might pull someone back from the edge." – Carmelia Elliott
Gratitude quote #3: "If the only prayer you ever said was 'Thank you,' that would be enough." – Meister Ekhart
Gratitude quote #4: "There is no duty so under-rated as the duty of being happy. By being happy and grateful, we sow anonymous benefits upon the world." – Robert Louis Stevenson
Gratitude quote #5: "Look at everything as though you were seeing it for the first or last time. Then your time on earth will be filled with glory." – Betty Smith
Gratitude quote #6: "When the eye wakes up to see again, it suddenly stops taking anything for granted." – Frederick Franck
Gratitude quote #7: "When you give and carry out acts of kindness you get a wonderful feeling. It is as though something inside your body responds and says, 'Yes, this is how I ought to feel.'" – Rabbi Harold Kushner
Gratitude quote #8: "One of the very first things I figured out about life…is that it's better to be a grateful person than a grumpy one, because you have to live in the same world either way, and if you're grateful, you have more fun."—Barbara Kingsolver
Gratitude quote #9: "Most of us are about as happy as we make up our minds to be." – Abraham Lincoln
Gratitude quote #10: "What a wonderful life I've had! I only wish I'd realized it sooner." – Colette
Gratitude quote #11: "Unless people like you care a whole lot, things aren't going to get better, they're not!" – Dr. Seuss, The Lorax
Gratitude quote #12: "To feel, think, learn and love; surely that is being alive and young in the real sense." – Freya Stark
Gratitude quote #13: In Thornton Wilder's play Our Town, Emily longs to revisit one ordinary, "unimportant" day. When she gets her wish, she realizes how much she took for granted. "I didn't realize all that was going on and we never noticed. Oh, earth, your'e too wonderful for anybody to realize you."
Gratitude quote #14: "As we express our gratitude, we must never forget that the highest appreciation is not to utter words, but to live by them." – John F. Kennedy
Gratitude quote #15: "Be thankful for what you have; you'll end up having more. If you concentrate on what you don't have, you will never have enough." – Oprah Winfrey
Gratitude quote #16: "The best way to pay for a lovely moment is to enjoy it." – Richard Bach
Gratitude quote #17: "Happiness is not a goal; it's a byproduct." – Eleanor Roosevelt
Gratitude quote #18: "Success is not about getting it done or attaining money or stuff. The measure of success in lie is the amount of joy you feel." – Esther Hicks
Gratitude Quote #19: "Normal day, let me aware of the treasure you are.Let me not pass you by in quest of some rare and perfect tomorrow. Let me hold you while I may; for it may not always be so. One day I shall dig my nails into the earth . . . or raise my hands to the sky and want, more than all the world, your return." – Mary Jean Iron
Gratitude Quote #20: "The bad news is, time flies. The good news is, you're the pilot." – Michael Altschuler
Maintaining a spirit and mindset of gratitude as we move forward – choosing to focus on and realize all the many blessings in our world – is a magical way to "pilot our time."
Sending best wishes to you for a happy, healthy new year that is everything you want it to be – and more.
– – – –
Sam Horn, Intrigue Expert and author of Got Your Attention? is on a mission to help people create collaborative communications that add value for all involved. Check out Sam's #TEDx talk on how to connect with anyone, anytime, anywhere.