Robin Gerber says, "Don't look back. We're not going that way." I think it's okay, even enlightening, to look back if the reflections lead to epiphanies.
So, as I wrap up my final day on My Year by the Water watching the sun rise over Diamond Head and going for a swim in the gentle ocean here in Hawaii, I reflect on the many blessed adventures and insights from the past 15 months.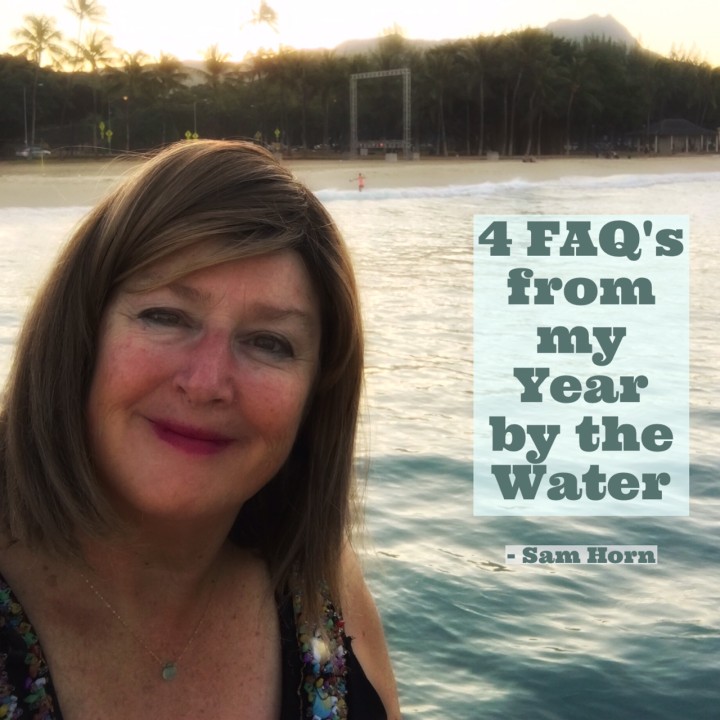 I smile as I think of the same four questions I heard again and again, regardless of where I was or who I was with.
1. "Don't you ever get lonely?"
Nope, I never felt lonely. I felt … connected. My family and friends were with me, even when they weren't with me. Plus, I agree with Beth Buelow who said, "I'm not anti-social; I'm pro solitude." I loved having autonomy and a road of my own. I felt connected to LIFE.
2. "How did you get to be so brave?"
I never thought of it as brave. Thanks to riding horses when I grew up, I learned how to be resourceful when things went wrong. Your bridle breaks? You get bucked off? Figure it out! As a result, I see the world as a safe vs. a dangerous place. I trust I'll be able to handle whatever happens. Being adventurous, exploring new places, doesn't scare me, it thrills me.
3. "What's been your favorite place?"
It isn't the places I remember. It's the experiences. Swimming with Zach the dolphin and watching him LEAP into the air into a triple back flip will always be one of my favorite memories.
But often, it was the quiet moments that left the greatest impression.
Like the time I was driving from Houston to California. I had already criss-crossed the country three times and had vowed NOT to go through El Paso or take HWY 10, ever again. So, I'm on back-roads. Every time I get to a cross-roads, I simply take whatever road heads west. Many people think Texas is dry and barren, but its famous hill country after a rain can surprise you with sweeping vistas of green. I am driving at my favorite time of day, golden hour, the gentle moments just before the sun goes down. I crest a hill and discover a golden field spread out in front of me stretching to the horizon. I pull over and step out into a vast silence. The only sound is a soft breeze through the tree next to me. I am immersed in this magical moment, deeply glad to be there, grateful to be alive.
4. "So, when are you going to settle down?"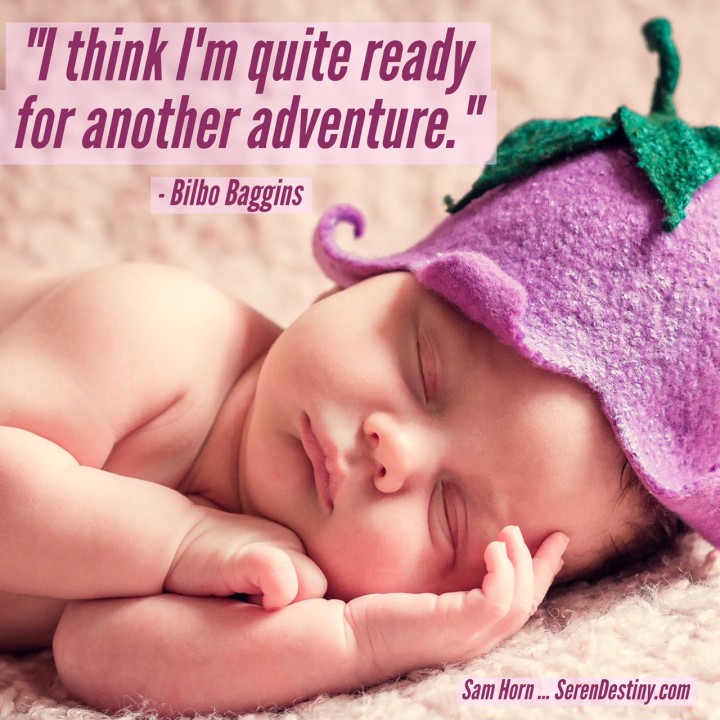 Every time I was asked that, I thought, "'Settle' means compromise. 'Down' means depressed. Why would I do that?" But then my sons and their lady loves have new babies on the way and they've invited me to come stay with them in Colorado and NYC.
As Bilbo Baggins says, "I am quite ready for another adventure." I know it's a gift that Tom, Patty, Andrew and Miki want me to be part of their lives. I want to honor that gift, and I am ready and eager for the adventure of grandmother-hood. Receive, receive, receive. Revel, revel, revel.
By the way, the most common reaction I got when people found out I was on my Year by the Water?
"Gee, I wish I could do something like that" or "Someday, I'd like to …." and then people would fill in their dream, their own version of the adventure they've always wanted to take.
When it was appropriate, I would share these three quotes.
"The problem is, you think you have time." – the Buddha
"One day, you're going to wake up and there won't be any time left to do the things you've always wanted to do." – Paulo Coelho
"If you want more luck; take more chances." – Brian Tracy
I would gently suggest that instead of assuming they'll be able to fulfill that dream or take that adventure LATER; they take a chance on themselves, jump-start their SerenDestiny and start doing a little more of what puts the light on in their eyes … now, not someday.
Want more epiphanies from my Year by the Water? My book There is No Present Like the Time, featuring adventures and insights from my Year by the Water, will be available in early 2018. Sample chapters include:
• Stop Watering Dead Plants
• Water You Waiting For?
• Why Am I Driving into a Hurricane?
• Start with an OPEN Mind, not the END in Mind
• Jumping off the Aircraft Carrier
• We CAN Go Home Again
• Leave Room for Whims
* Why Limit Happy to an Hour?
– – –
Sam Horn, Founder/CEO of the Intrigue Agency, is on a mission to help people create quality, one-of-a-kind projects that add value for all involved. Her work – including her TEDx talk and books Tongue Fu!, POP! and Washington Post bestseller Got Your Attention? – have been featured in the NY Times and presented to Cisco, Boeing, Intel.