Did you know a Harris Poll reports only 31% of Americans say they're happy?
An exhausted business owner told me yesterday, "I'm too busy to be happy."
I told him, "Please rethink that. Happiness doesn't take TIME, it takes ATTENTION."
How about you? Would you say you're happy?
I've discovered something surprising – and saddening – in my interviews with hundreds of people in the last few years for my upcoming book SOMEDAY is Not a Day in the Week.
Many people feel they have too much going on to be happy. They have too many responsibilities, too many to-do's. They just don't have the time.
That entrepreneur told me, "My wife and I work full-time in our business and we have two kids with special needs. We go non-stop seven days a week. Maybe someday I'll be happy. I don't see that in the near future."
Ouch.
What I've learned is that whether or not you describe yourself as "happy" depends a lot on how you define it. (More on that here.)
It also depends on whether you feel you have time for it.
Please understand, happiness doesn't have to be "happy, happy, joy, joy" like that Peanuts cartoon image of Snoopy leaping in the air, clicking his heels (paws?) and doing a happy dance. It can mean:
* feeling peaceful, content, satisfied.
* being present and quietly grateful to be alive.
* looking at the person you're with – or the people you're around – and being really glad to have them in your life.
* getting up from your chair, going outside for a moment and reveling in your health and freedom of movement.
* connecting with an idea, song or painting and marveling at humanity's artistry.
In other words, happiness doesn't take time, it takes attention.
When I asked that young dad whether he kept a gratitude journal (which a Harvard study shows is a shortcut to happiness), he said "You don't get it. Our sons wake up several times a night. We never get more than five hours of sleep and we're going from the moment we get up to the moment we go to bed. Who's got time??"
I nodded, "I understand that adding anything to your maxed-out life isn't an option. What if, instead of counting your blessings, you started noticing them? The first one takes time, the second one doesn't."
He told me, "It's worth a try."
Agreed. Happiness is worth a try.
Is your life maxed out? Are you going from the moment you wake up to the moment you go to bed? Do you tell yourself you'll be happy someday when you're not so busy?
Please understand, you don't need more time to be happy.
You'll never have more time than you have right now.
Stop wishing you had more time and start paying more attention.
The happiness you seek is available any time you want … for a moment's notice.
You can be happier and more grateful right here, right now at a moment's notice and in a moment's notice.
All you need to do is to be more alert to, and appreciative of, what's right with your world instead of what's wrong.
You don't even have to COUNT your blessings. All you have to do is NOTICE them.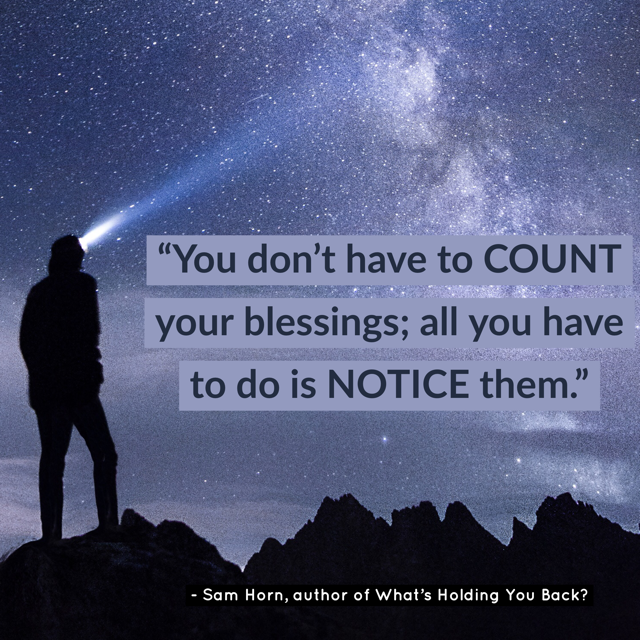 – – –
Sam Horn, CEO of the Intrigue Agency and TEDx speaker, – is on a mission to help people create a quality life-work that adds value for all involved. Her books – Tongue Fu! POP! and Washington Post bestseller Got Your Attention? – have been featured in NY Times, Forbes and on NPR and taught to Boeing, Intel, ASAE, Cisco, Accenture, NASA. Want Sam to speak to your group? Contact Cheri@intrigueAgency.com